Stay tuned kids this is going to be a long one.. and when we say long you're talking about two (actually three) reviewers and a walk through video that is 30+ minutes long!! Grab a cup of coco or tea or whatever is your bag and sit back and have a read...
For reference we're a little way from what we usually write as there are many people in many different places for this review... when you see SUGGESTED USES we're also going to talk about what we did with the holds here and some of the build issues that we found.

We've also broken down the sets to their themes to make it easier for you to read! And when you look at FULL SET INFO we're giving a general overview on the whole set and then we're talking about the full set price not just what we received. We will talk more about the holds we received in the ALL SETS wrap up at the end :)
When Metolius switched over to PU (don't worry they still pour their old stuff) and the opportunity arises for you to review said holds, you jump at that opportunity. It's a no brainer for sure; we've had a long relationship with them since the beginning of this site and when you get an email saying "hey would you like to see our new holds" you're brain goes in two directions... are they just going to remake the old shapes in a new medium or are they going to have new shapes to add to their already large hold line.... well it's a bit of both and whichever way you look at it... it's gooooooood
It's hard not to admit that Metolius has made a bit of a splash with their new polyurethane line this year, and maybe had their best year for holds to date. That's a big statement considering Metolius was one of the first producers of climbing holds in the United States. They were producing climbing holds back in 80's when there was only a handful of climbing gyms in the US and maybe one in Canada?.... Like seriously, when Christopher Columbus discovered the New World, the boys and girls at Metolius were already doing laps on the classics in Smith Rocks, Oregon.
This year for the first time, Metolius made 10th most popular hold company on Climbing Business Journal's (CBJ) Grip List. The list is determined by setters and owner surveyed for their favorite companies. Since Metolius went from no mention in previous years to making 10th spot on the CBJ's Grip List, this tells us that their new polyurethane holds were well received by setters indeed.
Needless to say, we were stoked to review such a big product transition from an iconic industry pioneer. Chances are if you climb, you own or have owned a product made by Metolius. With the long wind up and well deserved introduction out of the way, lets see the new goodies Metolius has produced for us ........
Its been a long time coming for this review. It's like 5 reviews in one, so climb into your favorite chair, grab a bag of chips and get comfy. Metolius came out with these in May, we got them shortly after and had other reviews in queue..... we started working on in it back in November. Most of the text was complete then, but was deleted some how, so here we go with our second crack at this review.
There are 5 themed sets, 1 themed set of feet and 4 sets of good old faithfuls poured in new polyurethane. The good old faithfuls are your basic old shape sets which consist of basic edges, slope, jug etc but they in their new PU! Theses are your know your bread, milk and sugar. Obviously Metolius couldn't send us all these holds to review so instead they sent us samples from each set. Nick got some holds and Noodles got some of the others... they both received something from all of the sets... except Nooldles got totally jipped on the Sunspots....
Here's 30 minutes of us talking about the holds...
So lets get onto the holds themselves:
JOEYS
- Orbs with thumb catches when E.T. sets these are his favorite: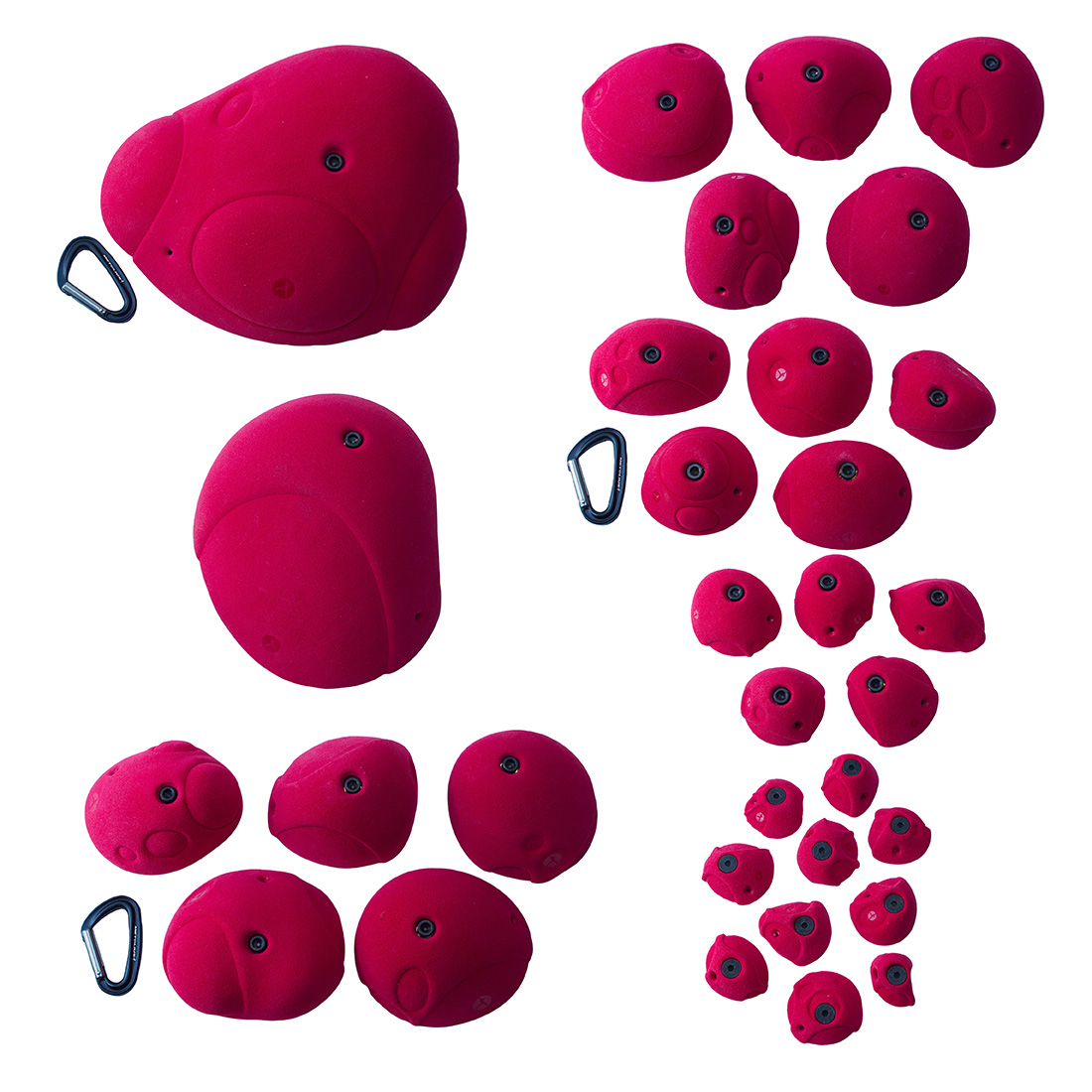 SUGGESTED USES:
So, what can we say about the joeys ? Well... we imagine that when E.T. is setting problems for the space homies this will be one of his favorite sets. They seem to be an adaptation of your typical basic palm sized spheres that many companies have versions of. What makes these different is the smaller tumor peteruding from the sphere, this provides many different thumb catches, pinching, meat hooking options not available with just a plain sphere. These will give you lots of setting options as you turn the hold. The optimal spot on the hold can be a pinch, meat hook, bear claw or a sloper with most of them depending how you orient them in your problem.
These holds are something you'd sort of expect from a someone like So Ill; they're much more modern in design that you'd expect to see from Metolius... and this is something that's been needed and wanted in their line up for many years. FRESH HOLDS, we all love them and now they're here. These holds are Cobbles++; so much better and when you add them to some thing like erm say the Cobbles then you've got slopey pinch routes for days. These holds don't get old and people were reaching for them when we were setting
The small ones tend to be more technical feet. The climber will have to determine and place their feet to get optimal spot on the hold since the holds not uniform,
They can be used on most angles but wouldn't be very practical in roof or slab. 10 degrees to 35 is the sweet spot for them.
What we we received were XL and M. They were not hollow backed, so they are a little heavier. Most of the holds we received were hollow back, but theses were not. However, we received an almost identical sized (XL) hold from the cobble set that was hollow backed. We would like to see the Joey XL hollow backed as well.
These holds are going to end up being a go to for sure and once the exchange rate gets more 1:1 between Canada and the US then I know of at least all of the gyms I live close to that will order these holds.
FULL SET INFO:
Number of holds: 32
Type (Bolt / Screw Ons): Bolt on
Price for the set: XS > 3XL = $349
Color: 12 Industry Standard Colors
Bolt placement: Martini or Hex can be used
Sanding: Perfect
Hollow backed: Smallers ones we received weren't.
Soft back (Rubber backed): No
Texture: Just right
Set size: 3XL to XS
Versatility: Good but able to force moves easily
Pre-drilled screw holes: Yes
Shaper: Joey Jannsen (hope we spelled your name right bro)
Weight: Moderate
Where can you get them: USA and Canada: Metolius Everyone Else: International Dealers
COBBLES
- a staple for every setter now we have a urethane version: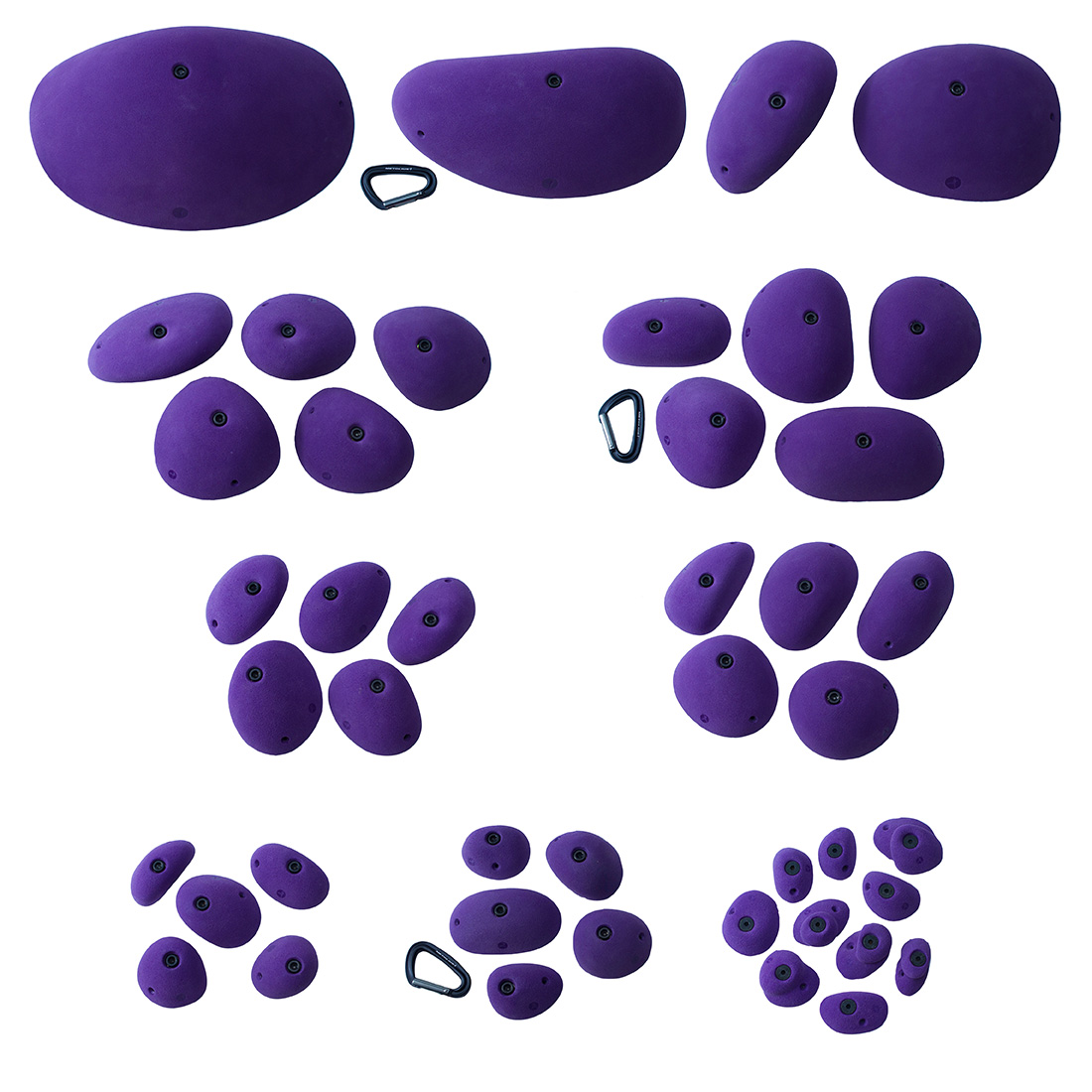 SUGGESTED USES:
These are your classic slopey jugs, no crazy innovations here. All companies have a version but these are the Metolius versions; probably the originals and probably some of the best ones out there.. We like them. They're holds that are staples for every setter. When you want something slightly worse then a true jug, these are your go to. These are particularly fun on 25 to 45 degree angles.
These holds are less versatile. These are one directional (only one side of the hold is useful). Turning the hold doesn't change the options on the hold very much compared to other holds like the Joey set.
If you've ever touched the originals of these holds then you'll know the smooth complexity of these shapes. A flat wall and they're your friend and then as the angle gets steeper then they become harder and harder... we set with the originals so much that setting with these was like setting with something that we've known for years; sure they're a little bit different from the originals but so similar you'd think you were on the originals.
FULL SET INFO:
Number of holds: 44
Type (Bolt / Screw Ons): Bolt on
Price for the set: XS > 3XL = $451
Color: 12 Industry Standard Colors
Bolt placement: Martini or Hex can be used
Sanding: Perfect
Hollow backed: Yup.
Soft back (Rubber backed): No
Texture: Smooth sandstone
Set size: 3XL to XS
Versatility: Low (One directional)
Pre-drilled screw holes: Yes
Shaper: Jim Karn
Weight: Light to Moderate weight
Where can you get them: Us and Canada: Metolius Everyone Else: International Dealers
NEW WAVE
- technical low angle holds that will spit you off: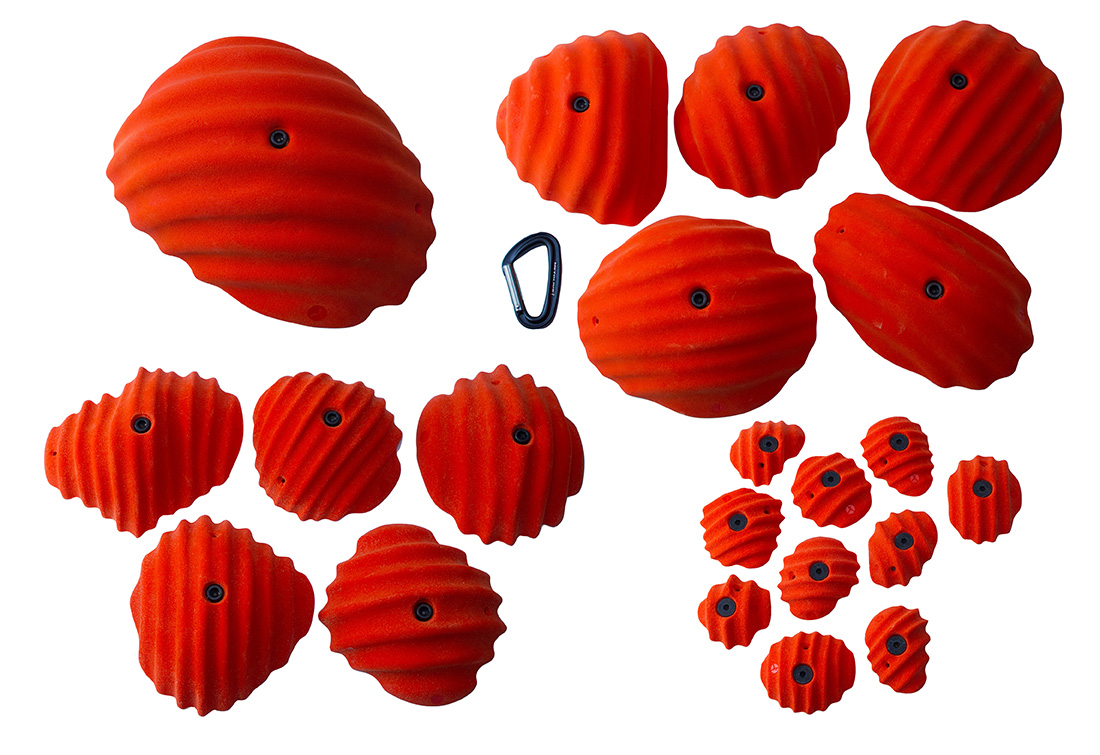 SUGGESTED USES:
Most people wont be climbing on these much steeper then 25. Some might even be fun on a slabbed wall. One of the holds we received was XL and it was slopey ! It was hard on vertical. (top right hold in the picture)
That being said, it looks to be one of the hard holds in the set. The XS holds are also great for hand holds when sticking them on aretes with or without a screw on foot for a thumb catch, or placing them on volumes at steep wall angles to make cool pinches or compression problems.
Lots of subtle pinches here. XL is more difficult then L.
Moderately versatile. It has lots of options as you rotate the hold, but isn't very practical on most angles.
From just looking at these holds you think that "sure this'll be easy, I'll make a match here and I'll crimp there" but you won't! You'll have to be delicate with these guys, sure you can use the smaller ones as hands but again you'll have to be delicate on them; they're more versatile than you would first think as long as the wall angle is correct. If you have huge hands then you can just wrap over all the bumps and it'll give you more options, especially for wide pinches (if that's your thing)
FULL SET INFO:
Number of holds: 21
Type (Bolt / Screw Ons): Bolt on
Price for the set: XS > 2XL = $271
Color: 12 Industry Standard Colors
Bolt placement: Martini or Hex can be used
Sanding: Perfect
Hollow backed: Yup.
Soft back (Rubber backed): No
Texture: Smooth Sandstone
Set size: 3XL to XS
Versatility: Moderate
Pre-drilled screw holes: Yes
Shaper: Jim Karn
Weight: Light to Moderate weight
Where can you get them: Us and Canada: Metolius Everyone Else: International Dealers
MUD
- Pinches and Pockets (which can be used as pinches) :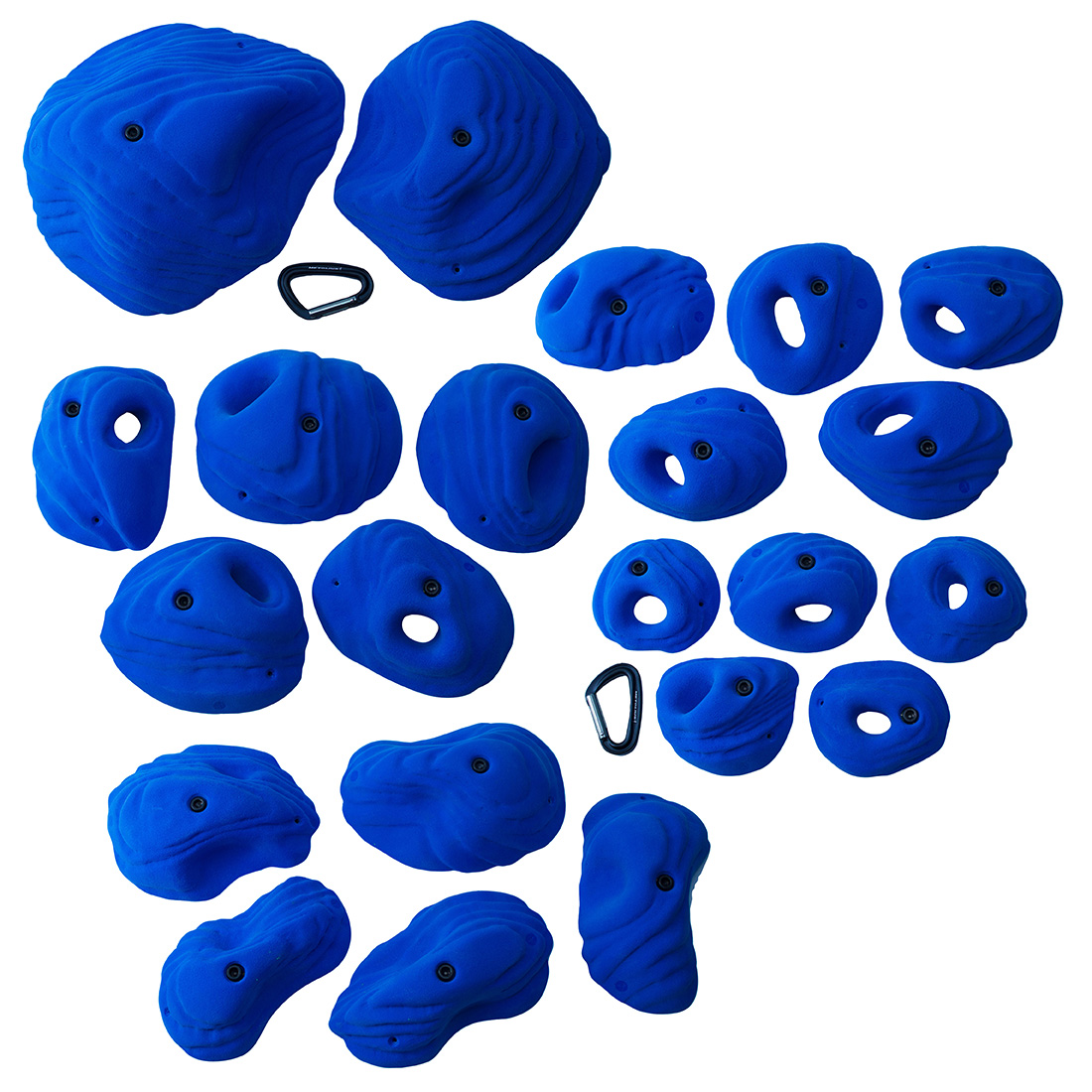 SUGGESTED USES:
Muds set are basically a series of pockets and pinches. Most of the pockets can be turned into a pinch when putting your thumb into it. Great for 25-45 degrees. The pockets are great for 50-60 degree overhanging sport routes and have a very overhanging limestone pocket route feel to them. The pockets can be turned into pinches by putting your thumb in the pocket and pinching the ripples. Also, many of the pockets can be matched by pinching the edges. As pockets go they're friendly and some of the nicest ones out there currently. Its nice to have the ripples which give you more options on using the hold then straight up finger tweaky only holds that most pockets are. You kinda have to decide do is is best to use this pocket as a pocket, pinch or match depending on how the route or problem is set. Another point worth mentioning is because you can put your thumb into the pocket and pinch the ripples, you can set pressing moves i.e mantle down low or press where the wall goes from vert to roof or 50 degree plus.
These holds are a setters dream; great pockets and awesome slopey pinches which can be very very misleading to a climber that isn't paying attention to what they're grabbing. Sure a pocket is a pocket but the pinches are just something that you need to take time and hit correctly as they will spit you off. Despite their ripples these holds are really nice to hold onto even when you're bearing down on them
FULL SET INFO:
Number of holds: 22
Type (Bolt / Screw Ons): Bolt on
Price for the set: M > 2XL = $367
Color: 12 Industry Standard Colors
Bolt placement: Martini or Hex can be used
Sanding: Perfect
Hollow backed: Yup.
Soft back (Rubber backed): No
Texture: Sandstone
Set size: 2XL to M
Versatility: Moderate
Pre-drilled screw holes: Yes
Shaper: Jim Karn
Weight: Light to Moderate weight
Where can you get them: Us and Canada: Metolius Everyone Else: International Dealers
SUNSPOT
- Good comp holds. Splits the okay climbers from good ones. If difficult on left side of the hold, then will be more incut on right side or vice versa: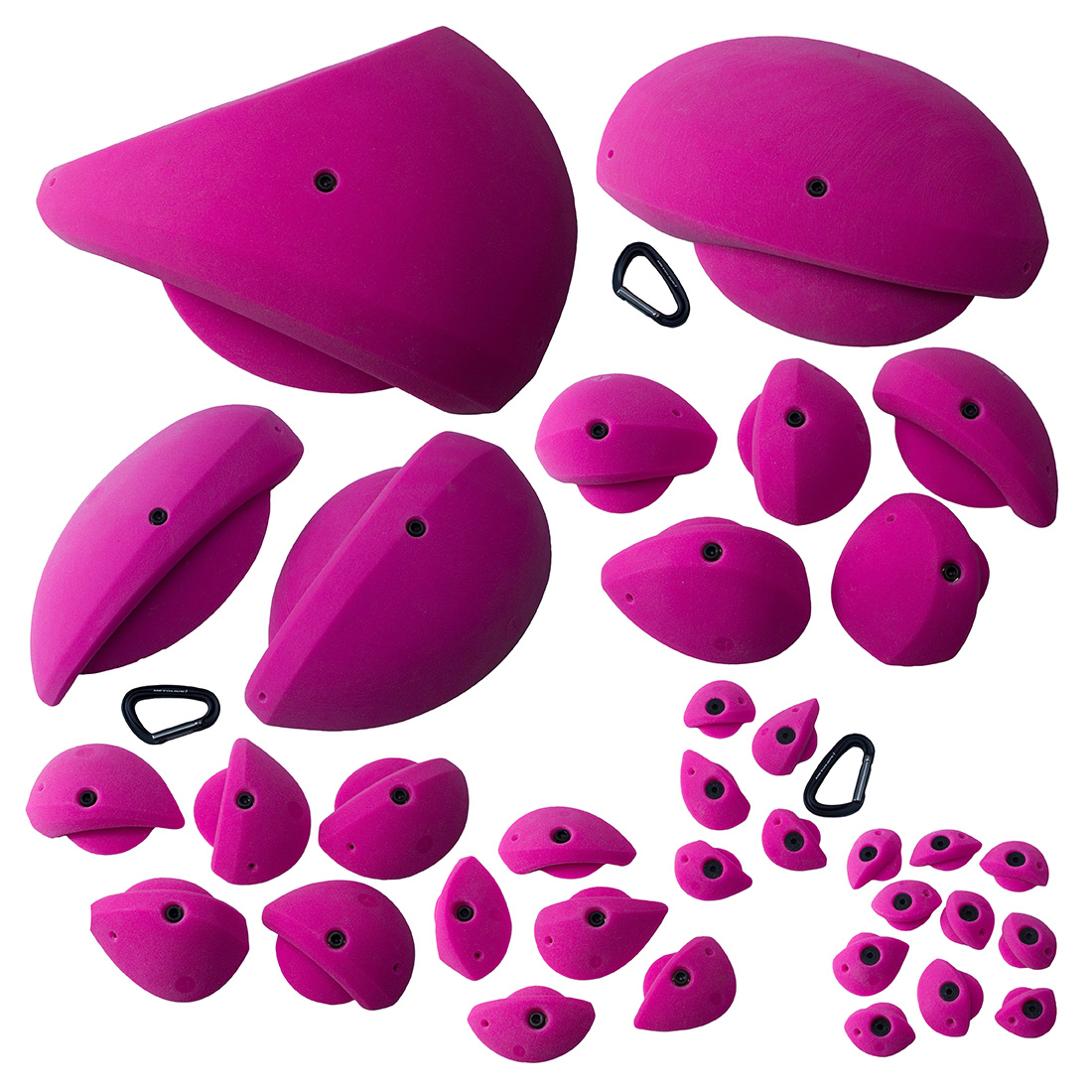 SUGGESTED USES:
The large ones can be used on any angle. Some of the smaller ones will be used mostly on vert to 25 degree angle because many of them are like incut crimpy jugs put only 1/4 to 1/2 pad. (Or at least the ones we received !) The slopey side of the larger holds can be used as well on low angles.
We receive 1 2XL, 1 XL, 1 Med, 1 S and 1 XS. We set a few problems with them. The only true flaw (the rest are a matter of opinion) with the set, we found on the 2XL when using the martini bolt it creates a unwanted thumb catch on the bolt. We are sure Metolius will fix this
The 2XL usually ended up on a 45 to 60 degree over hang set as a large gaston or side put. It was matchable with both hands. It has a shallow incut which is less then a 1/2 pad on one side and 3/4 deep on the other side. It gradually gets deeper along the lip of the hold. This is the general theme here with this set. The setters would put these high enough and in a position where the climber couldn't tell which side of the hold was better or place the better side in wrong position to trick the climber into the wrong beta.
Our XL was a finger bucket, it was a full pad deep two handed jug, naturally we used it for start and finish holds. It makes for a great undercling, side pull or gaston for any angle.
The medium was one hand 1/2 pad incut. It was use on vert to 25 because it was more difficult. Probably, the more difficult of the mediums. The larger holds in the set are more fun because you had to figure out where the sweet spot was on the hold and made for more interesting beta. The mediums are more straight forward since you can only get one hand.
The smalls and XS were used as hard crimps or feet. Great when used opposed to make pinches out of them.
FULL SET INFO:
Number of holds: 34
Type (Bolt / Screw Ons): Bolt on
Price for the set: XS > 4XL = $494
Color: 12 Industry Standard Colors
Bolt placement: Martini or Hex can be used
Sanding: Perfect
Hollow backed: Yup.
Soft back (Rubber backed): No
Texture: Moderate
Set size: 4XL to XS
Versatility: Moderate
Pre-drilled screw holes: Yes
Shaper: Joey Jannsen
Weight: Light to Moderate weight
Where can you get them: Us and Canada: Metolius Everyone Else: International Dealers
OVERALL BUILD ALL HOLDS:
These holds are all poured by Entre Prise. Entre Prise is located on the same street in Oregon that Metolius is so it's a bit of a quick walk to go on over and to make some holds!! Entre Prise builds walls for clients; so if you're getting a wall then you should maybe talk about bundling in some holds from them whilst you're at it, you won't be sorry
Quality is there... like really there! I'm sure that when you have a large company like Metolius working with another large company like Ent then there could be some ego. Thankfully Ent knows how to pour holds, as we've seen some of their stuff a while back and it was superb. This has carried over probably to a greater degree than when we reviewed EP's holds by themselves... the game as been upp'd for sure
All of the hold sets come in 12 colors so you can order pretty much what you want in the color you want; for note those colors are pretty much the standard industry wide now so you know a yellow Metolius hold is the same color as everyone elses holds!!
All the holds will take both Martini and Hex bolts which is nice for efficiency. Also there is nothing worst then needing a certain sized bolt, but the only one left in the bin is a different head. With theses, Metolius has eliminated that problem.
The sets are priced pretty fairly for what your getting. Their prices are competitive across the board when you compare holds of similar quality from other companies.
What would you expect from someone like Metolius? You expect what they've done in the past; tried and true... what did they do this time? They went to their neighbor and they talked to them... and then EP and Metolius have kicked it straight out of the park. Would we expect anything less? No we wouldn't, would we have settled for anything less? Nope; we'd have ripped them a new one for dropping the ball
Smart, very very smart!
Also bloody great holds! The sanding is great; ALL OF THE HOLD HAVE SET SCREW HOLES! All of them, even the feet
Sorry; ALL OF THE HOLDS HAVE SET SCREW HOLES, EVEN THE FEET
Sure; the set screw holes don't have washers but c'mon we can't ask for miracles... they've given us enough already
WHAT ARE THEY MADE FROM:
Urethane
PACKING / SHIPPING:
Great: Nick is using his box as a ghetto setting bucket... all of the holds were well wrapped
RATING:
Noodles:
Have we talked to Brooke (one of the owners of Metolius) about switching over the years? Yeah of course we have... did they do it? Yeah eventually they did, but they did it smartly, they watched the market and they didn't drop their current hold line in the medium that they pour and then they just added to it. Is that smart? Yes of course it is; it's what I'd have done if I owned the company
Now... can I see them adding more lines to what they're doing now?
I hope so
What Metolius have done is smart; they've moved into the market, a market that they pretty much built mind you and they've done it carefully.
Now; I'm nearly 40 and have spent many years climbing, skateboarding and riding on a BMX. I've been there when the sports were huge and I've been there when it crashed. Is climbing going to go that way? Probably; the expansion that we see right now is unsustainable BUT (again) Metolius haven't moved from their tried and tested medium and gone full bore into urethane. They've dipped their toe into the water to see whats happening.... is it too little too late?
Probably not. Climbing has had it's ups and downs before. We're on an up and soon there will be a down (Mark my words people); Metolius has been there through it all because people will always climb. Adding urethane hold to their arsenal (and we hope to see more from them from what we've seen) is a smart move and a great move
Now... about the holds. There are few lines of holds when they come out that I'm kind of happy; or even giddy about. I'm also not one to wax lyrical about stuff like this. I'm known for speaking my mind so let me do just that
The last time I was stopped and raved about holds was my Artline review on the Font holds because well I love Font. Did you watch the video? I cut at least 25 minutes from that video, mainly of me talking about the holds. Was and am I excited about this line up? OH GOD YES, why? Because Metolius holds have been a staple of your climbing life, even if you don't know it, since you climbed indoors. Now there are new shapes in a material that isn't so heavy; holds great colors and from the shaping are just great to climb on
We've written this review twice, not because we weren't happy with what we wrote the first time but because we deleted the other version somehow. Do you know what that allowed us to do? It allowed us to enjoy these holds a little longer before committing keyboard to internet. It allowed us to spend more time hanging on these holds and getting to know them better
Brooke and Tedd; my hat is off to you... congrats.... it's a hold :)
Chris:
Jesus he does go on! Hell; they both do.... Noodles and Nick, the two "N's"
Let me do this with a series of questions:
Do I like Metolius holds? Yes?
Did I like the medium that is was poured in? It did the job
Did I like their shapes? Yes
Did I want them to pour their shapes in urethane? Yes
Was I expecting what we received? No
Did Noodles tell me who's holds they were when he showed them to me? Nope
Was I surprised when he showed me the logo? Yup
Am I happy with the result? ... ... ...
I cannot say enough good about these holds... is that enough?
Nick:
When I heard Metolius was sending over some brand new holds made out of poly, I was super stoked. Everyone has long anticipated when they would make this move. I'm pretty impressed that they have done a pretty good job producing theses. Not that I ever doubted them, but this is a new transition for them. It's hard for many company to get new products this right in their first go. I mean there are a few things I would have designed slightly different as I mention in the video i.e. position of the logo and set screws on some holds.
If I were a gym owner, I would love these, many owners love bang for your buck holds. Don't get me wrong when I say they are "bang for your buck", I'm saying they are good quality but not super expensive.
Gym owners want holds that are shaped well, but don't cost a small fortune. Most setters usually just like the best shaped holds irregardless of the cost. Many owners love Element for this reason because they find they get the best quality for price that they pay. Element does this well and so has Metolius.
I was originally going to rate the sets in numerical order, but I decided against that since one set isn't clearly better than the other. I will say that the Sunspots were a favorite at the gym.
Sunspots: Great, I think the real value in these holds is having the whole set because they are designed for tricky setting. All the mediums look alike but some are 1/2 pad some are a full pad, so it keep your climbers wondering which one is that. The largers are cool since they can be two hand and one side is better then the other so it leads to all sorts of bumping and rearranging on the hold.
Joey: The jury is out on these as of yet. I couldn't come to a conclusion on them with the two i had from the set. We did enjoy them seting roof to vert feet cut moves.
New Wave: They are low angle spit you off fun with lots of subtle hand positions. They look nothing like font but seem to climb that in low angle spitting off sense.
Mud: I must admit at first I did not like them.... and wonder what to do with them, but I warmed up to them when I figured out how cool the ripples on the outside of the pockets could turn them into comfy pinches. This made for very cool sequences and made climbers question their beta. It was sometimes hard to tell if you were meant to use it as a pinch, a pocket or match or what....
Cobbles: Always good shapes to have in the bucket. They compliment other holds well. I like them on steep angles. Must say never realized Metolius had these years ago in the old material until old man noodles pointed it out. I like them better in the new material.
Pited feet: I only played with one. The feeling I got was i couldnt just look and tell where the good spot on these feet were. I had to feel around until my finger or toes fell into a sweet spot.
To sum it up seems like a lot of subtle tricky going on with these shapes. The mean setters will love these or setters that really like setting problems that involve alot of thinking, beta, complex sequences.
PROS:
Great Value i.e. Price cant be beat for what your getting i.e. High Price to Quality ratio.
Classic shapes in new and better material
New shapes in new and better material
CONS:
$250 minimum order
Location of set screw holes provide unwanted thumb catches on some holds
Logo gets in the way sometimes
Some holds could have been hollow backed